---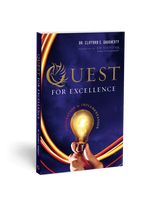 Quest for Excellence
CLICK HERE: to order the Kindle edition on Amazon
THE EXCELLENCE ADVANTAGE

Quest for Excellence is the gripping true story of an ordinary man who learned through extraordinary circumstances to have faith for the impossible. When Dr. Clifford Daugherty took the helm as superintendent, Valley Christian Schools was sinking in red ink. Through one cliffhanging episode after another, he discovered principles and practices that revolutionized his life and turned VCS into a beacon of educational excellence for the nation and beyond.
As you follow the adventures that built VCS, your vision will soar to embark on your own Quest for Excellence. Teachers, parents, students, and community leaders will find the timeless faith lessons in this book stimulating, helpful and practical.
Be inspired to believe for extraordinary achievements and supernatural provision in any endeavor.


See your faith grow with amazing examples of how to live a supernatural life naturally.


Learn how to implement the transferable principles of the Quest for Excellencewithin your life and sphere of influence.


Discover how the Excellence Brings Influence strategy can transform any arena, including education, business and government.
Carton Quantity: 32
Number of Pages: 272
ISBN: 978-0996420709