---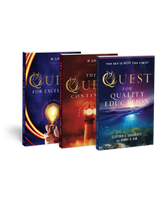 Sale
Quest 3-Book Set
Sale price $34.99 Regular price $48.97
Purchase the complete set of QUEST books:

Quest for Quality Education
The Quest Continues
Quest for Excellence
From Quest for Quality Education:
CAN AMERICA'S PUBLIC SCHOOL STUDENTS RANK AMONG THE WORLD'S HIGHEST ACHIEVERS?
After leading Valley Christian Schools from the brink of closure to become one of the premier faith-based schools in the nation, Dr. Clifford Daugherty wondered: Could the QUEST for Excellence bring the same kind of transformation to struggling, underfunded public schools? Quest for Quality Education describes a remarkable growing partnership between the strongest professional achievers in our communities and their neighborhood schools—a collaboration that changes everyone involved. The accounts inside will take you around the globe, into outer space, and to the ocean depths. See how proven QUEST for Excellence principles in business can ignite the pursuit of excellence for students. Join Clifford Daugherty and Danny Kim on their amazing journey.
"From their hilltop campus overlooking Silicon Valley, this Christian school is helping to renew a passion for learning in America's public schools. Quest for Quality Education . . . is a must-read for educators and parents." —DR. ED SILVOSO, Transform Our World
Learn how you can help bring goodness, peace, and joy to the schoolchildren in your community


Discover how to acquire resources for your neighborhood schools, public or private


Reclaim the powerful legacy of America's Founding Fathers through the "self-evident" truths described in the Declaration of Independence


Ponder the true nature of excellence, and how Light, Life, and Learning can transform any school, of any size, anywhere